Are your flower beds looking a little dreary and in need of a modern garden design? Maybe you don't like how they've grown or maybe they are becoming too hard to maintain. Whatever the reason, read on to learn how you can get the flower beds and gardens of your dreams.
Our Flower Bed and Garden Renovation Process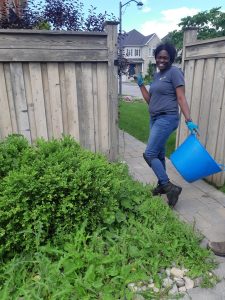 Here's how we transform your flower beds and gardens and take them from boring and overgrown to styled and vibrant!
Step 1: Initial Call
Give us a call to discuss your vision. We'll review your goals, budget, and timeline before moving forward. We will also arrange a site visit to see your gardens in person.
Step 2: Site Visit
We will visit your home to take a comprehensive look at your current gardens and layout. We'll discuss what you like, what you want to change, and we'll review which tree and plant options will work best on your property. Our team will consider sunlight, shade, plants, flowers, your favourite colours, floral scents that you enjoy, and your overall vision for the space. We will also spend time examining how your garden drains, irrigation considerations, the potential for transplanting plants, and the current layout and design. This site visit is a terrific opportunity for us to get to know you and ensure that we're on the same page about your garden design.
Step 3: Design Proposal
You will receive a proposal with an estimate for your dream garden, which will include references to all the aspects that were discussed in Step 2. This is when your garden design ideas come to reality!
Step 4: Follow-up Meeting
We'll have a follow-up meeting with you to ensure we hit the mark with our proposal. At this point, we will discuss the next steps with you and begin your project!
NOTE: Before beginning your project, and if necessary, we will need to remedy any water issues that were discovered during our home visit. Our team will work with the existing elements on your property, but we leave the use of heavy machinery to construction professionals. We will assist you with finding the appropriate service and/or work with the city to ensure this is resolved before your garden redesign begins.
Combine your new garden with regularly scheduled maintenance and seasonal clean-up services, and we know you will love your garden.
At Yorkshire Garden Services, we believe that your gardens should showcase your home and grounds while reflecting your style. Click here to visit our project gallery.
Ensure your property looks its best. Contact us for your flower bed and garden renovation consultation today!