Are you thinking about redesigning your front yard or backyard garden? Do you know what plants will work best in a front yard garden versus a backyard garden? Are you looking for a modern garden design or something more classic?
Whether your garden design ideas involve a year-round (perennial) garden or a spring-blooming garden, privacy or open space, in this blog, we have some helpful tips to improve the look and functionality of your front yard and backyard gardens.
Front Yard Garden Designs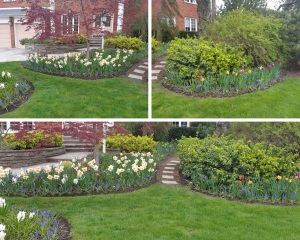 Front yard garden designs are typically focused on curb appeal and creating a good first impression. Having a beautiful front yard will add value to your home, help you do your part in keeping your neighbourhood beautiful, and will be a source of pride of ownership.
Ensuring that your gardens are designed to have plants flowering and looking their best at different times in each season is very important. If your garden is planned with this in mind, you will be able to enjoy different colours and blooms throughout the year.
Add planters for instant style and curb appeal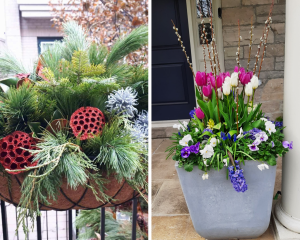 You can add visual interest and enhancements to your front porch, entryway, or backyard deck by adding planters in every season. Planters add style, colour, texture, height, and elegance — it all depends on what you're looking to achieve.
We love adding seasonally-themed flowers and plants to your planters. For example, in November and December our planters are filled with a variety of greenery, pinecones, red berries, and other coloured plants. In the spring, tulips and hyacinths will add a lovely pop of colour to your front entrance.
Which flowers or plants have great curb appeal?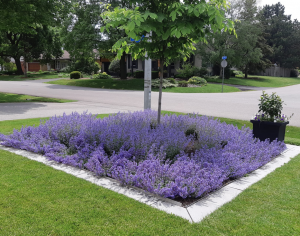 Consider plants and flowers that will accent your home's style. Your front garden is an ideal location to bring some more colour to your home or to enhance the colour of your brick, front door, or other features.
Be careful to ensure that your selected plants are appropriate for the level of shade or sun that the area receives each day. You will also want to ensure that you have adequate space so that your plants can grow to maturity in a healthy manner, and won't impede your pathways, stairs, or other structural elements. If you have a small front garden, you may want to consider adding a single tree, shrub, or flowering plant that has a big 'wow' factor.
Specimen planting is also very popular in a front yard and it provides a focal point for your garden. We love to choose Tulip Trees, Japanese Maples, or Weeping Evergreens for our clients' front gardens.
Backyard Garden Designs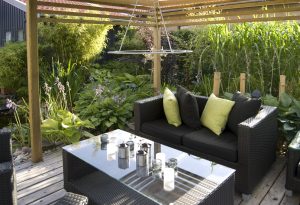 Your backyard is your private oasis. It's a place to entertain, relax, and even work! When designing your backyard garden, you'll want to think about ensuring that its use integrates with your home and allows you to move comfortably from one space to another.
Consider creating distinct areas for seating, entertaining, relaxing, or barbecuing. If you have children or pets, you'll want to be cognizant of where they will be playing and avoid thorny plants in those areas. Another consideration is if you have a pool or hot tub where plants could be impacted by splashing water or chlorine.
How to achieve privacy in your backyard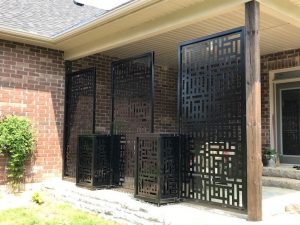 Privacy is very important, especially when you are looking to enjoy some peace in a small backyard garden in the city. Many homeowners think that privacy means building a fence or planting tall hedges, but we love to use privacy screens to create private spaces. Our team loves the privacy screens from The Watered Edge on Etsy.
Private spaces should be intimate and cozy and we recommend making your wishes clear to your landscape professional so they can determine how best to add privacy to your space. At Yorkshire Garden Services, we have several trusted contractors that we work with during this process.
Deciding on a functional and beautiful front yard or backyard garden design that requires minimal upkeep, yet will remain beautiful, isn't always an easy task. Some homeowners look for "low maintenance plants or flowers", but there really isn't such a thing! Gardens still require regular tending, clean up in the spring and the fall, and pruning and fertilizing throughout the year. Your garden is an investment and professional maintenance will help ensure it looks its best.
The team at Yorkshire Garden Services is here to help guide you through your garden process. Connect with our team of garden professionals today for a consultation!